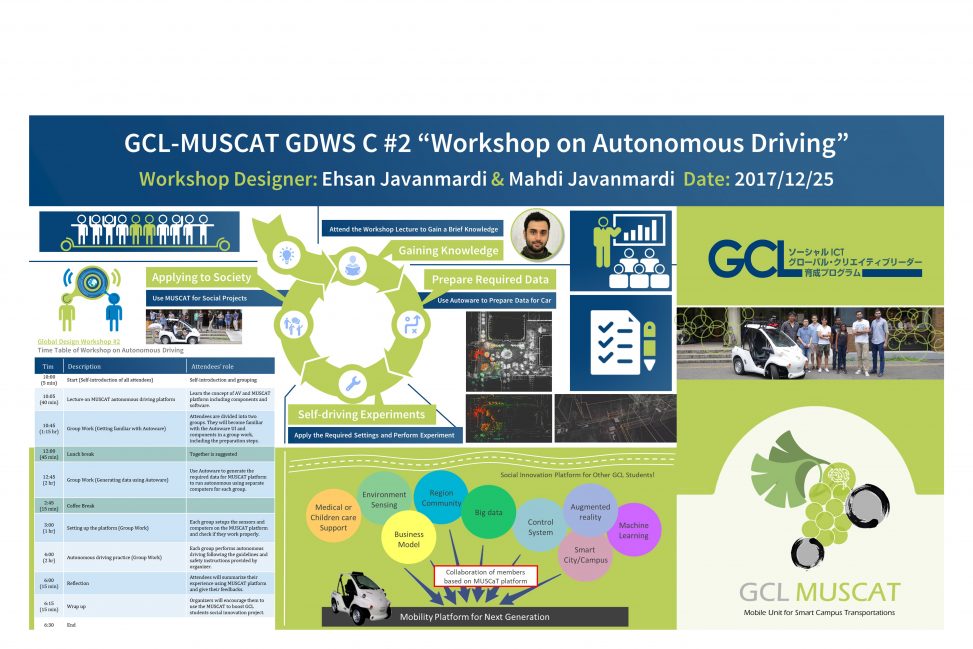 Workshop on Autonomous Driving
More than a century ago, the first production vehicle was made by Karl Benz, and later automobiles dramatically changed the way we live. Today, fully autonomous driving has the potential to revolutionize not only transportation but also the entire society. Every year, more than a million lives are cut short due to traffic accidents-autonomous driving could significantly reduce these fatalities. This emerging technology can also save people time. If we start working when we get into the car, how many hours can we save? Especially in a metropolis like Tokyo. Also, autonomous driving facilitates the transportation of aged people, reduces fuel consumption and plays a key role in saving the environment, reducing the number of required parking spaces, and so on.
All the opportunities mentioned above require an interdisciplinary collaboration between autonomous driving experts and researchers in other fields such as city planning, sociology, psychology, environmental science, etc. The autonomous driving platform "GCL-MUSCAT" aims to provide GCL students with an opportunity to utilize self-driving cars and boost their social innovation projects to make our society a better place to live.
In our previous workshop "GCL-MUSCAT GDWS C #1, Safe and Effective Autonomous Vehicle Experiments" we demonstrated our autonomous driving platform to the interested GCL students and provided them an opportunity to experience autonomous driving on campus. The outcome of the first workshop was a safety checklist for MUSCAT that ensures our autonomous driving experiments meet basic standards of safety.
In this workshop, we aimed to extend our MUSCAT professional network and train more students to be able to operate this platform from scratch. Later, these students will be able to help and assist other GCL students from different fields to employ MUSCAT in their social innovation projects. To achieve this goal, the attendees were divided into two groups and received multiple sessions of in situ training and group work from 10 AM to 6:30 PM. The workshop consisted of four main components including a lecture to transfer advanced knowledge of autonomous driving to the attendees, indoor group work to familiarize them with the autonomous driving software Autoware and generate the required data, outdoor group work to train them on how to set up and operate the MUSCAT platform and do the experiment, and finally reflection and group discussion to get their feedback and increase their motivation for future collaborations.
Background of project
The MUSCAT project is an interdisciplinary project in GCL supervised by Dr. Tsukada which aims to provide autonomous driving technology to GCL students who believe that this technology might boost their social innovation projects.
Since autonomous driving technology is new and complex, it is difficult for students with no prior knowledge of self-driving cars and programming to operate such systems and perform experiments by themselves. Therefore, an interdisciplinary collaboration between students who are majoring in information or computer science and students in other fields is essential to achieve the goals of the MUSCAT project. This workshop focused on training new students and equipping them with the knowledge to operate the MUSCAT platform and organize autonomous driving experiments. This workshop aims to expand the professional network of MUSCAT members, but also to ensure knowledge transfer from current members to prospective members of MUSCAT.
About this Workshop
This workshop started at the GCL-lab with a short self-introduction and continued with a 40-minute lecture on the MUSCAT autonomous driving platform. In the lecture, the main components and technologies of self- driving cars were described using examples. After that, the students were divided into two groups, and one laptop with Autoware (open-source autonomous driving software) was given to each group. With instruction from the facilitators, they started getting familiar with Autoware and manipulating the software by themselves.
To provide an environment that allowed the students to share their opinions with the facilitators, facilitators and students had their lunch at the cafeteria together. After lunch, members came back to the GCL lab and started the second round of group work to generate the required data for an autonomous driving experiment. When the data was ready, members moved the car outdoors, beside the Starbucks café on Hongo campus, and started setting up the car. After they prepared the system and data, each group performed the autonomous driving experiment, and every student sat behind the wheel while the car was in the autonomous driving mode.
After everyone tried the system, all the attendees and facilitators had a group discussion and reflection to get the students'feedback on how to improve the experiment quality and define the development priorities of MUSCAT for the future.
Finally, the attendees and facilitators took the car back to the GCL lab, and the workshop was finished with a wrap- up. The video report of the workshop can be found here: https://photos.app.goo.gl/c5BjL8SMHw7i7oty1
プログラム
5min

Self-introduction

40min

Lecture on the MUSCAT autonomous
driving platform

75min

Getting faimiliar with Autoware
(Group work)

(Lunch time)
120min

Generating data using Autoware (Group work)

(Coffee break)
60min

Setting up the car (Group work)

120min

Self-driving experiment (Group work)

15min

Reflection

15min

Wrap up
Outcome
The main achievement of this workshop was undoubtedly the new students who can operate the MUSCAT platform and will be able to organize an autonomous driving experiment from scratch without help from the MUSCAT core members, after just a few practices. Since current core members will graduate soon, these new students can fill the gap and assist the GCL students who are interested in the platform but cannot operate it by themselves. Moreover, similar workshops should be regularly organized to expand this network.
Another outcome of the workshop is a step-by-step experiment manual which will make the experiment procedure less complicated and easier to perform. This manual is currently under construction, and after its release, it will be modified from time to time to reflect each new experience and challenges members have faced during the experiments.
Reflection
The main goal of this workshop was to expand the MUSCAT professional network. One of the essentials for growing a project is to make more people interested in what you are doing. While autonomous driving is an attractive topic, many students are afraid of its complexity. Therefore, they are not easily convinced to join this project. To avoid this problem, we should promote MUSCAT in a way that every GCL student can feel they can join and benefit from this project without having any prior knowledge of autonomous driving or programming. To be able to achieve the goal of attracting people from different majors and backgrounds, this workshop or similar workshops are essential. The role of this kind of workshop is to strengthen the MUSCAT core members, and make a base for other students.
Beyond this, we should focus on one social problem and design GCL-MUSCAT workshop #3, which will target a specific social concern. If workshop #3 is held successfully, we will be able to extend this model to other social problems and involve more GCL students over time.
アイテム

Autonomous driving vehicle, Autonomous driving software, PowerPoint, Whiteboard, Laptop, Drone, LCD, Wireless internet

開催日時

2017.12.25 (Mon) 10:00 - 18:30

場所

Hongo campus, the University of Tokyo

参加者・人数

4 persons
(including the professor and facilitators) (Information and Communication Engineering [2 persons], Emerging design and informatics course [1 person], Institute of Artificial Intelligence and Robotics [1 person])

講師/ファシリテーター

Ehsan Javanmardi
(Ph.D. student, Dept. of Information and Communication Engineering)
Mahdi Javanmardi
(Postdoctoral fellow, Institute of Industrial Science)
Manabu Tsukada
(Project assistant professor, Dept. of Creative Informatics)